How to Withdraw Your Crypto Assets for Free on FTX
In this guide, we are going to show you how you can withdraw crypto assets from the FTX US exchange for free. Founded in May 2019, FTX US currently offers more than 27 crypto-crypto trading pairs, while providing some of the most cost-effective deposit and withdrawal options in the industry.
If you have ever invested or traded in the cryptocurrency markets before, you will understand how difficult it is to make a profit. The high levels of volatility and uncertainty can put even the most experienced traders to the test. As a result, it's easy to see why many people resent paying an extra fee to withdraw their assets since it eats away at their hard-earned profits.
For example, Binance, one of the industry leaders, charges a fixed fee of 0.0005 BTC (roughly $21 at the time of writing) for each crypto withdrawal. This fee is charged regardless of the size of the withdrawal. In addition to regular network fees, Coinbase, another crypto exchange behemoth, charges its users a 1% fee to convert and withdraw their crypto to cash.
How to access unlimited free withdrawals on FTX
Let's start off with the good news for all you high rollers out there. All withdrawals over $5,000 are free on FTX. No matter how many you make in a day/week/month, you will never have to pay a cent to withdraw. This means that you can enjoy unlimited free fiat withdrawals, as long as you ensure that each of them totals more than $5,000.
For those of you that want to withdraw less than $5,000, you will be granted one free withdrawal per week. This allows you to transfer your funds out of the exchange without having to pay any fees or charges whatsoever, regardless of the size of the transaction.
The weekly free withdrawal under $5,000 works on a rolling period. This means that as soon as you make your free withdrawal, the countdown until your next one begins immediately.
Additional withdrawals under $5,000
If you want to make multiple withdrawals under $5,000 within the same rolling week, then fees will apply. Here is a quick breakdown of the charges for each currency:
USD – 25 USD
GBP – 75 GBP
EUR – 32 EUR
CAD – 100 CAD
CHF – 30 CHF
There are no hidden fees that you need to take into account. However, if you do receive any extra charges, this will be down to your receiving or intermediary bank. Therefore, it is recommended that you reach out to them before initiating a withdrawal to clarify their charges (if there are any).
Crypto withdrawals
On FTX US, withdrawing crypto to non-custodial wallets is completely free. With the exception of ERC20 and OMNI tokens, FTX will even pay the blockchain fees for token withdrawals. As for speed, the majority of withdrawals are completed in a matter of minutes. Larger withdrawals may necessitate manual review, which could take several hours.
Withdrawal limits
Tier 1 account holders in the United States are limited to $10,000 in crypto and fiat withdrawals per day and $300,000 in cumulative withdrawals. Tier 2 account holders in the United States have no restrictions on crypto or fiat withdrawals.
How to withdraw on FTX
Head to your FTX US wallet and select the withdrawals tab to initiate the withdrawal process.

Below, you will see a list of all of your current assets, both fiat and crypto. Select the asset you want to withdraw, then hit the "Make a withdrawal" button in the top right. Let's take a look at withdrawing Ethereum as an example.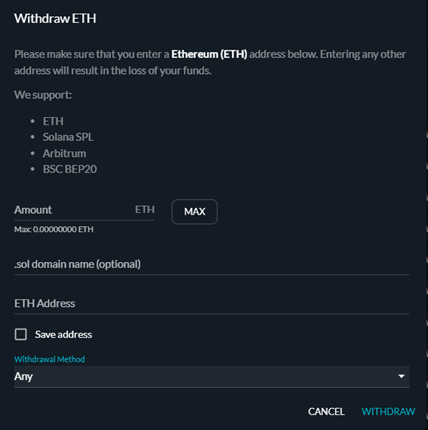 Once you have selected ETH from your list of assets and click withdrawal, you will be greeted with this window. Here you can see a breakdown of what networks are supported on each blockchain. For Ethereum, you can use ETH, Solana SPL, Arbitrum, or Binance Smart Chain. Ensure that you select the right option, as you may lose your funds if you choose the wrong network. Double-check your wallet, or ask the receiver to confirm the appropriate network.
Next, enter the amount you want to withdraw and enter the ETH address to which you want to send the funds. You can save the address for future reference if you plan to use it again.
For fiat withdrawals, you can choose from the following options:
Wire Transfer
ACH
Silvergate Exchange Network (SEN)
Signet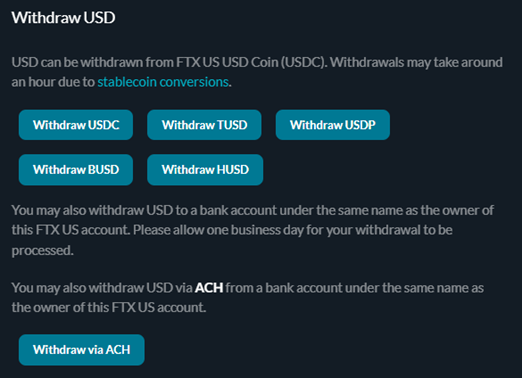 The receiving bank account must be in the same name as your FTX account for ACH withdrawals, or the transfer will not be approved.
Things to keep in mind
There are a few things to keep in mind before wrapping things up. To start, you must ensure that you have completed stage two of the KYC procedure in order to execute a wire/ACH withdrawal. This may be a deal-breaker for people who prefer the anonymity of cryptocurrency, as it requires handing over formal documentation.
Second, FTX has stated that if the network is overloaded and/or spammed, they may impose a minimum fiat withdrawal restriction of $100 or equivalent. Therefore, users who want to withdraw funds at lower levels may be priced out. Finally, as previously indicated, certain banks and intermediaries charge their own withdrawal fees, particularly if they are hesitant to accept cryptocurrency-related wire transactions. To reduce this risk, reach out to your bank before withdrawing.