US, EU, Or Asia? Here's Which Of These Has Dominated Bitcoin Sell-Side Recently
Latest Bitcoin data released by Glassnode sheds light on which of the three major markets (US, EU, and Asia) has been behind the recent selling pressure for the crypto.
Examining 30-Day Cumulative Bitcoin Price Trend During US, EU, And Asian Trading Hours
The latest weekly report from Glassnode comes with data highlighting the price change during the trading hours of the three major markets.
The metric in question measures the cumulative Bitcoin price change during the active trading hours of US/EU/Asia over the period of 30 days.
As the analytics firm explains it, "these metrics provide insight into which geographic areas of the market are leading, or lagging in buy and sell-side pressure, particularly in reaction to fundamental changes in market structure."
Related Reading | Brace For Impact: Bitcoin Open Interest Once Again Climbs To High Values
Now, here is a chart that shows the trend during both the US and EU trading hours since the year 2020: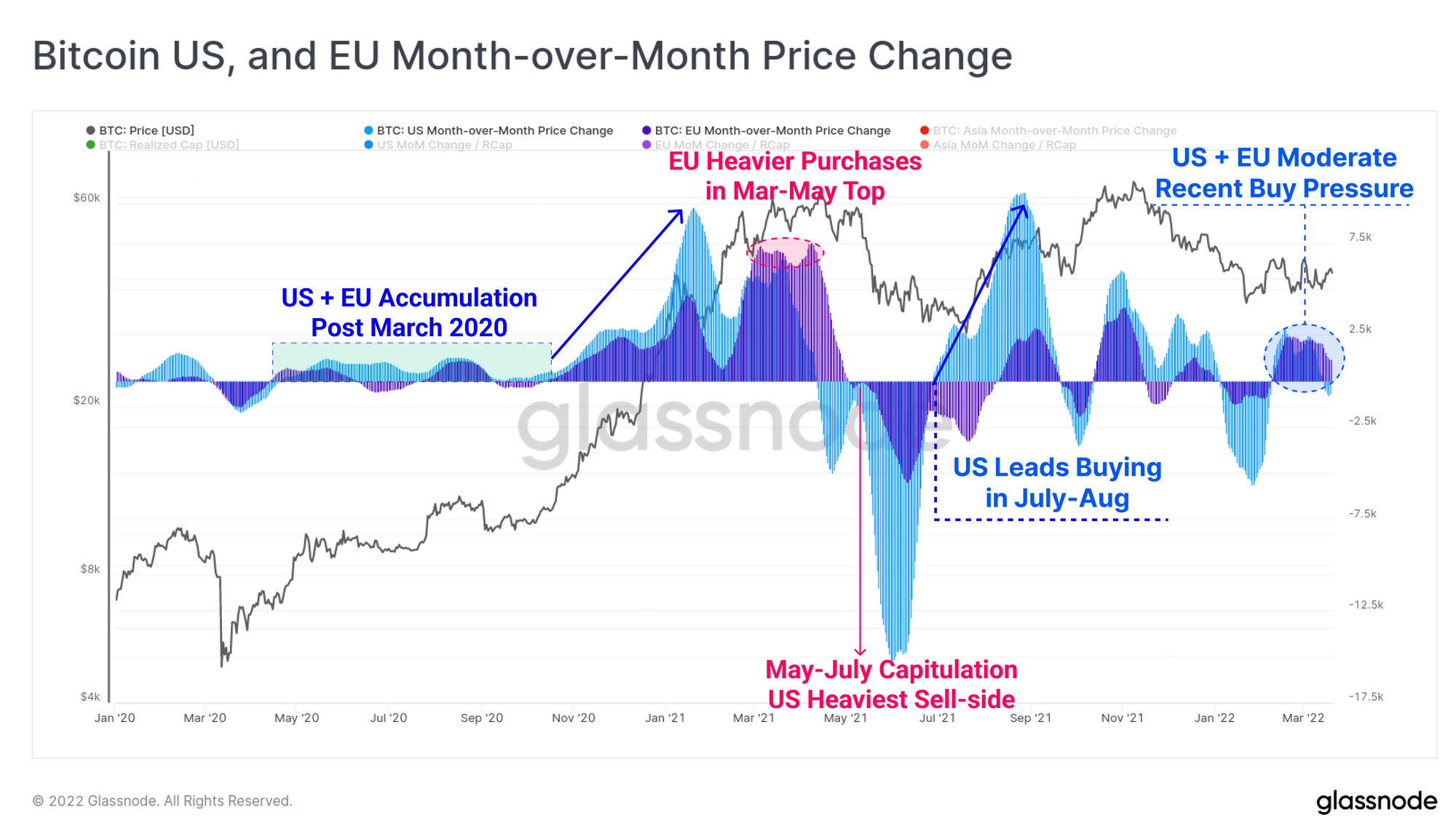 Looks like both the markets have contributed to buy pressure recently | Source: Glassnode's The Week Onchain - Week 12, 2022
As you can see in the above graph, trends during US and EU trading hours have been pretty similar over the period.
Following March 2020, both the markets had been in a state of accumulation, until the 2021 bull rally neared where investors in both the hours participated in some heavy buying, with EU ramping up a bit later than US.
May-July consolidation saw heavy spending from US, but the market lead buying during July-August, and did considerably more buying than EU.
Most recently, investors from both the trading hours have shown moderate buying pressure. The below chart shows how the price has changed during Asian trading hours over a similar period.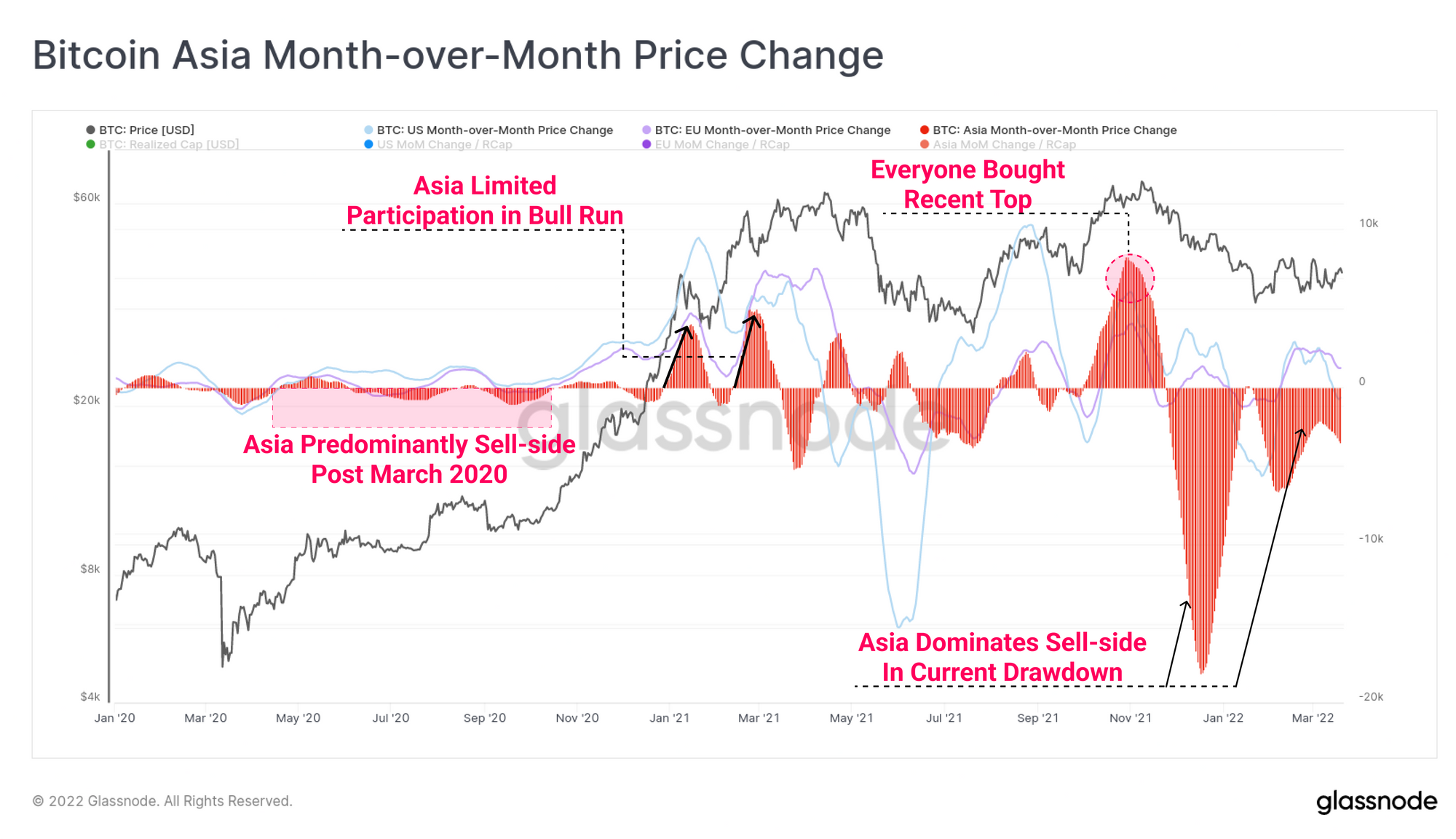 The metric shows the region has been involved in spending recently | Source: Glassnode's The Week Onchain - Week 12, 2022
As the graph shows, the behavior from Bitcoin investors in Asia has been pretty different from the other trading hours.
The region was mostly selling post March 2020, while it did some buying during the bull run, although considerably lesser in scale than US and EU.
Related Reading | Texas Congressman Pushes For Bitcoin Mining To Make US "Energy Independent"
Asia also did some selling during May-July, but again the magnitude was lesser than the others. Interestingly, investors in these trading hours heavily bought the top during October-November.
Then during the drawdown that followed, Asia heavily dominated the sell-side pressure, and has since continued to spend moderately during recent months.
BTC Price
At the time of writing, Bitcoin's price floats around $42.8k, up 11% in the past week. Below is a chart that shows the trend in the value of the crypto over the last five days.
BTC's price seems to have surged up over the past 24 hours | Source: BTCUSD on TradingView
Featured image from Unsplash.com, charts from TradingView.com, Glassnode.com