Why Has Bitcoin Futures Open Interest Flatlined? Factors
Bitcoin trends higher in the last few days as it approaches the mid area around its current levels. The benchmark crypto has seen some relief in the past days but seems unlikely to fully reclaim its previous bullish momentum.
Related Reading | Data: Bitcoin Long-Term Holder Supply Has Stagnated Since October High
At the time of writing, Bitcoin trades at $42,500 with a 4% profit in the last day and a 12% profit over the last two weeks.
As NewsBTC has been reporting, Bitcoin seems to be reacting to the U.S. Federal Reserve (FED) shift in monetary policy and the armed conflict between Russia and Ukraine. The financial institution announced a rate hike of 25 basic points (bps) for the coming months.
This increment meets market expectations. No major announcement is expected from the FED in the short term.
As for the armed conflict, attempts to reach a diplomatic solution have failed, with no clear winner on the battlefield. The parties seem to be at a stalemate.
This tense calm has moved to the market and the uncertainty could lead Bitcoin into further consolidation between its current levels, and the high area around $30,000.
In support of this thesis, Arcane Research records no major movements in Open Interest (OI) for the BTC-based derivatives sector. This metric has remained stable at around 360,000 BTC and 380,000 BTC since the start of 2022.
As seen below, the OI for BTC futures has been moving sideways along the price of Bitcoin, as it registers a decrease in volatility. In other words, the BTC market could be experiencing a period of low activity which suggests no important trends in either direction.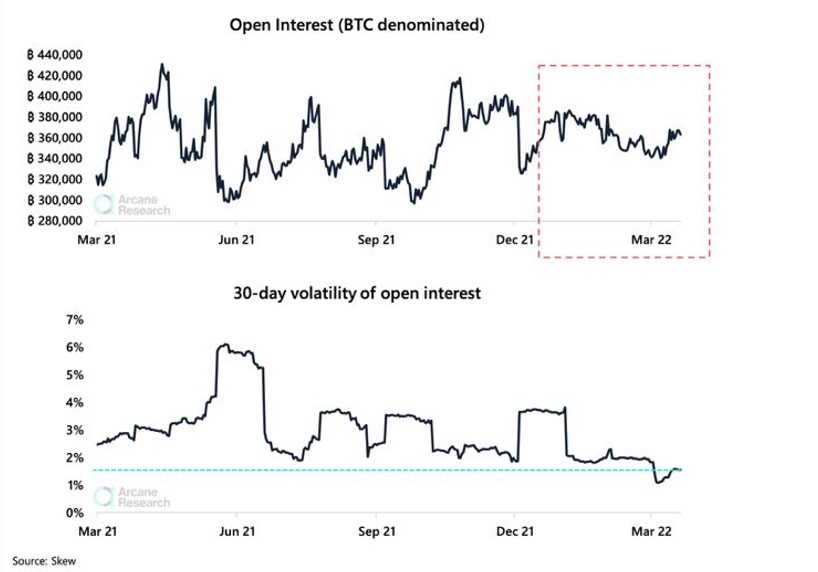 The Last Time Bitcoin Open Interest Hinted At Consolidation
The 30-day volatility for Bitcoin OI futures, as Arcane Research reported, saw a 1% low in March, and has trended a bit higher in the last two weeks. The metric currently stands at 1.5%.
The research firm claims current trading activity has been lower than during a similar period of consolidation in 2021. Arcane Research added:
Overall, the BTC denominated open interest remains relatively lofty at 370,000 BTC. We've rarely seen open interest being maintained at such levels for such a long duration without any major squeeze setbacks such as those experienced during the spring and fall bull markets and bitcoin's short squeeze in July.
Additional data provided by Santiment indicates Bitcoin's supply on exchanges has been trending down as the price of BTC consolidates.
In June 2021, this metric saw a 6-month low as the market recovered from bearish price action. As BTC's price moved further up, the supply followed, but the cryptocurrency managed to score a new all-time high near $70,000.
Related Reading | Ethereum Classic Gains 60% In One Week, Why The Merge Could Push Its Price Higher
The chart below could be hinting at a similar trend as supply on exchanges decreases, and the price consolidates.