Bitcoin Transaction Fees Remain Historically Low Despite Recent Spike
Data shows the Bitcoin total transaction fees have continued to be at historically low values despite a spike during LUNA's collapse recently.
Bitcoin Transaction Fees Have Moved Sideways Since July 2021
As per the latest weekly report from Glassnode, the total transaction fees on the BTC network has been very low for almost a year now.
The "total transaction fees" is a measure of the sum of the fees that each user on the network is paying for every transaction on the Bitcoin blockchain.
Miners pick up transactions based on which ones will be more profitable to handle at the moment. Transactions attached with high fees are naturally picked up first.
During periods of high network demand (that is, a high amount of transactions taking place), the mempool gets congested.
This means some transactions may be stuck for a while as miners take their time to get through the congested mempool.
Related Reading | Untethered: Top Stablecoin USDT Dominance Begins To Decline
So, in periods like these, users who want their transfers prioritized start paying a higher fee. More and more users join them and the average transaction fee shoots up.
When demand on the Bitcoin network is low, however, there isn't such cutthroat competition anymore, and fees naturally get lower.
Now, here is a chart that shows the trend in the total transaction fees on the BTC blockchain during the past few years: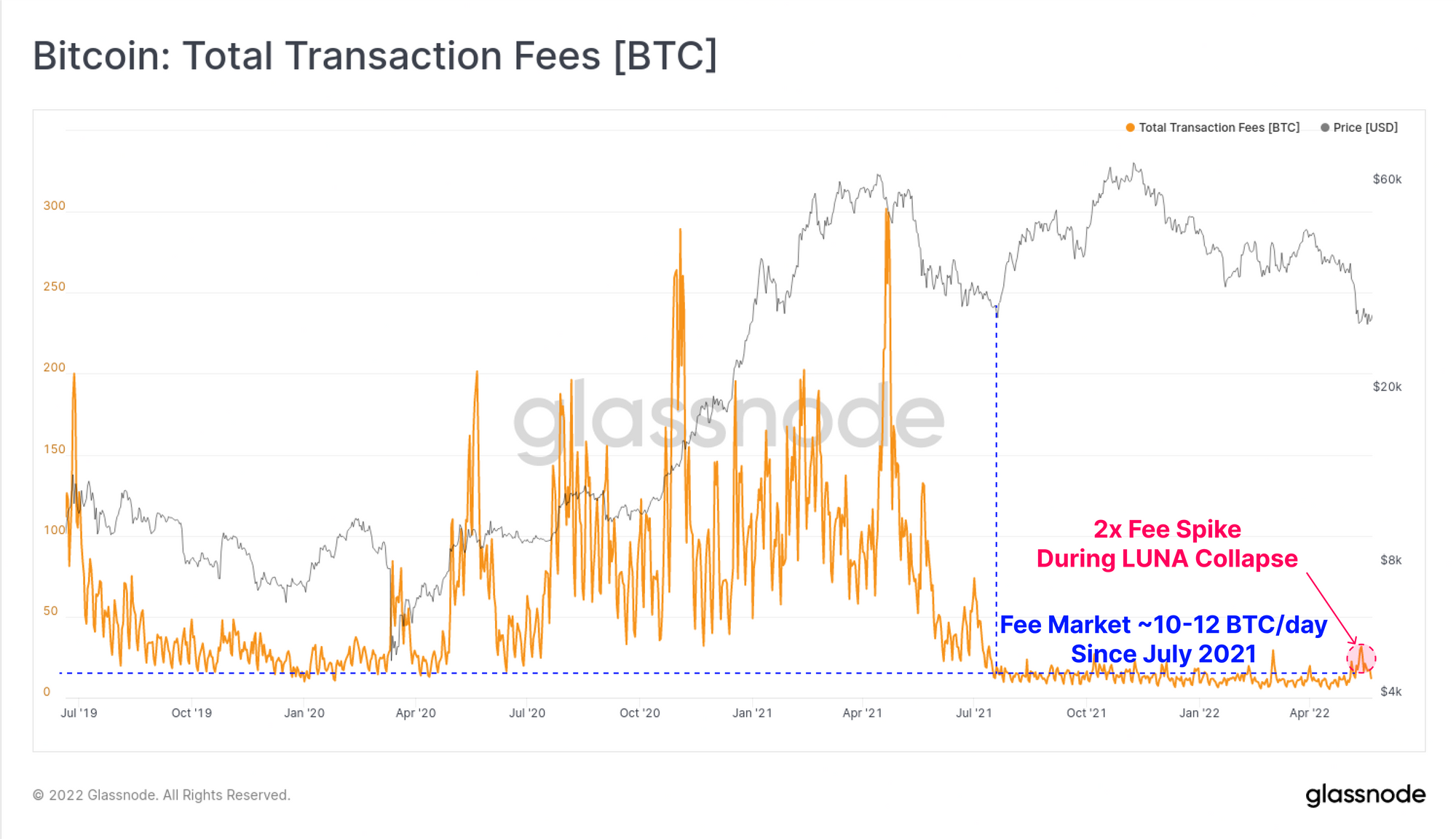 Seems like the value of the metric observed a small spike recently | Source: Glassnode's The Week Onchain - Week 21, 2022
As you can see in the above graph, the total Bitcoin transaction fees has been very low, just around 10 to 12 BTC per day, since the July of last year.
The indicator's value did shoot up recently following the collapse of LUNA and UST, and the market chaos that ensued.
Related Reading | Stripe And Primer Go Lightning: New Bitcoin Payment Solutions Via OpenNode
This spike doubled the transaction fees, but despite this increase, the fees still remained much lower than what was seen during 2020 and first half of 2021.
An effect of this low transaction fees has been that Bitcoin miners' revenue has also been quite low in recent months.
At the moment, it's unclear when the fees may observe any revival. One thing is for sure, a high demand for blockspace will need to be there for the fees to see any significant movement.
BTC Price
At the time of writing, Bitcoin's price floats around $29.1k, down 1% in the last seven days. The below chart shows the trend in the price of BTC over the last five days.
Looks like the price of BTC has sunk over the past couple of days | Source: BTCUSD on TradingView
Featured image from Unsplash.com, charts from TradingView.com, Glassnode.com