Bitcoin Whales Buy The Dip As BTC Drops To $39k
On-chain data shows a sharp spike in the Bitcoin exchange outflows, suggesting whales have been buying the dip to $39k.
Bitcoin Exchange Outflows Show High Value Suggesting Whale Activity
As pointed out by an analyst in a CryptoQuant post, the BTC exchange outflows have registered a large spike recently.
The "exchange outflows" is an indicator that measures the total amount of Bitcoin currently exiting wallets of all exchanges.
When the value of this indicator is high, it means investors are withdrawing a large amount of coins at the moment. Especially large values can imply whales have been buying.
Such a trend, when sustained, may be bullish for the price of the coin as investors usually transfer their crypto out of exchanges for accumulation purposes.
On the other hand, low outflow values suggest there isn't much buying going in the market right now. This could either be neutral for the price, or if selling is going on, then it may be bearish.
Related Reading | Bitcoin Miners Receive Third Break This Year, Over 100K Blocks To Go Until The Halving
Now, here is a chart that shows the trend in the BTC outflows over the past year:
The indicator's value seems to have observed a large spike recently | Source: CryptoQuant
As you can see in the above graph, the Bitcoin exchange outflow has shown a big value recently as the price has fallen below the $40k mark.
This suggests that whales may have jumped at the opportunity to accumulate more coins. During the three previous instances in the last year when outflow values on a similar scale were observed, the price of BTC observed an uplift not too long after.
Related Reading | Bitcoin Bear Market Comparison Says It Is Almost Time For Bull Season
It now remains to be seen whether a similar bullish effect will be there this time as well, or if the sellers will overwhelm the buyers and drive the price further down.
BTC Price
At the time of writing, Bitcoin's price floats around $39.2k, down 5% in the last seven days. Over the past month, the crypto has shed 4% in value.
The below chart shows the trend in the price of the coin over the last five days.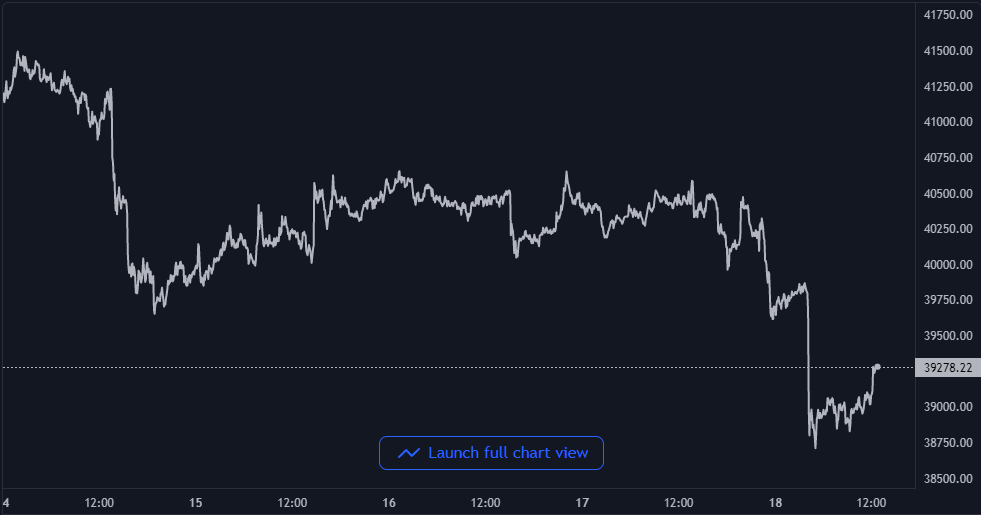 Looks like the value of the crypto has plunged down over the past twenty-four hours | Source: BTCUSD on TradingView
After holding above the $39k level for more than a month, Bitcoin finally dropped below the mark in the past day. This is a continuation of the decline that started late last month after BTC topped out above $47k.
Currently, it's unclear when the price may observe some recovery. But if the outflows are anything to go by, then signs may be bullish for the crypto.
Featured image from Unsplash.com, charts from TradingView.com, CryptoQuant.com