Goldman Sachs rocky road from bashing crypto to promoting it on its homepage
Goldman Sachs, one of the largest U.S. investment banks, has made a full 180 on its stance on cryptocurrencies and is now actively promoting them on its main website.
The latest version of its home page is dominated by a section on "digitalization," which leads visitors to a page containing reports on cryptocurrencies, metaverse, and other Web3 trends that it believes are "reshaping economies."
Not even Goldman is immune to the charms of Web3
Pushing a cryptocurrency agenda has now become almost ubiquitous in the world of traditional finance. Institutions left and right have been adding cryptocurrencies to their offerings and exploring ways to enter the crypto market, even in times of its sharpest corrections.
Goldman Sachs, whose reluctance to jump onto the crypto bandwagon was second only to JPMorgan, is one of those institutions.
While the U.S. investment bank has been offering cryptocurrency products for a while, it was only a few years ago that its top management was actively expressing disdain about the new asset class.
In 2020, the bank released a presentation on cryptocurrencies, saying that Bitcoin is neither an asset class nor a suitable investment.
Less than a year later, the bank released a comprehensive report on the cryptocurrency market and began offering Bitcoin-backed trading products almost immediately after that.
Earlier this week, it became the first U.S. bank to conduct an OTC crypto options trade, trading a non-deliverable Bitcoin option with help from Galaxy Digital.
However, its aggressive focus on the topic of cryptocurrencies and digitalization came as a surprise to the broader market, with many seeing it as an extremely bullish sign for the industry.
Goldman Sachs on crypto

2017: 2022: pic.twitter.com/7Dy6Joh1lF

— Jay | OKX CEO (@Jay_OKX) March 24, 2022
Goldman's "Insights" page features lengthy reports on the topic of the metaverse and online gaming, promoting Web3 as the dominant narrative not just in the crypto market, but in traditional finance as well.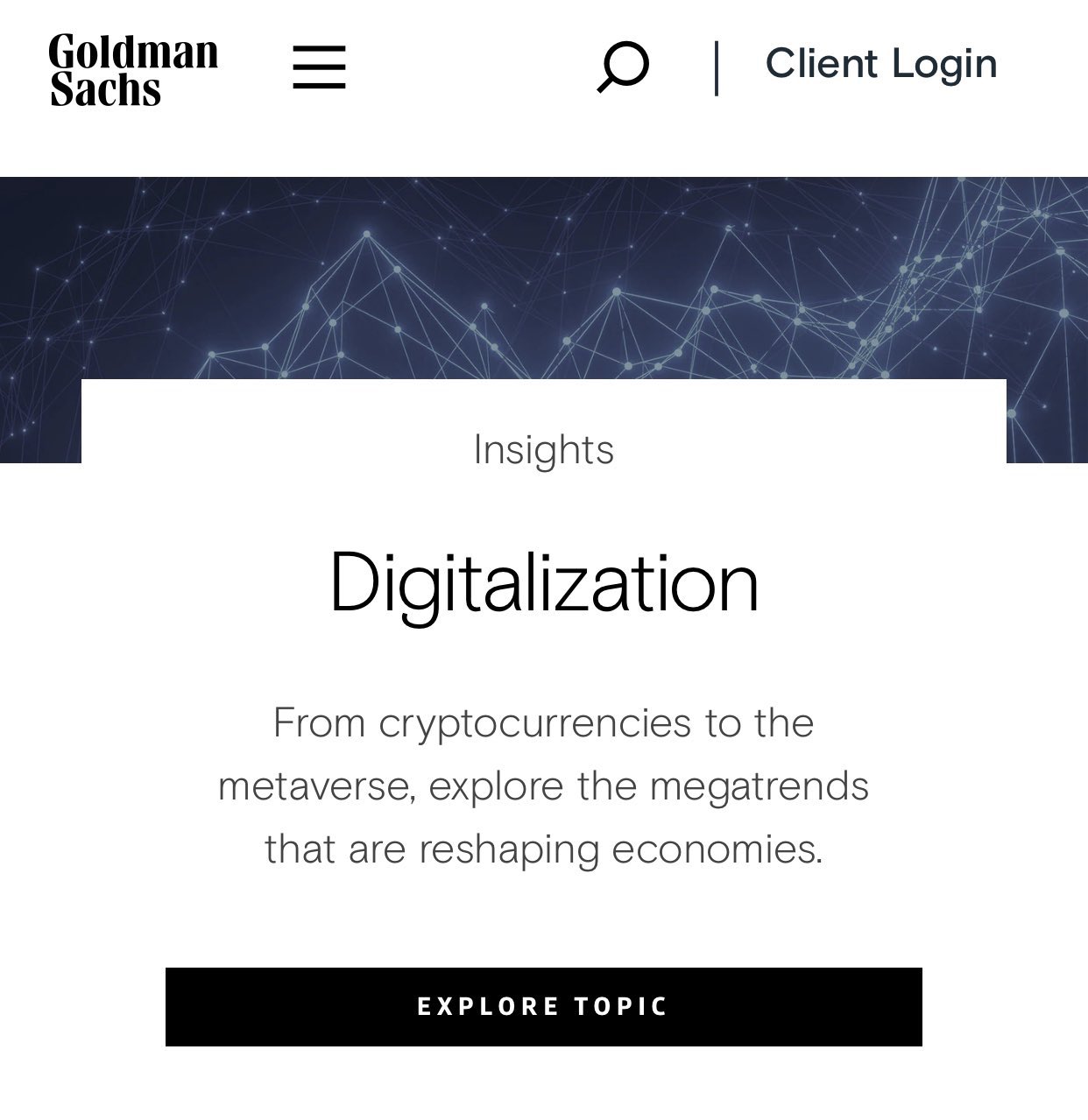 We are yet to see whether Goldman's new website will have an impact on the crypto market. Outside of its historic OTC transaction earlier this week, the bank has remained quiet about any other crypto and Bitcoin-related products it might offer. With the bank's main business targeting accredited investors and institutions trading derivatives, it might take months before an impact of its new Web3-first strategy shows results.
According to Mike Bucella, the general partner at Block Tower, just over half of Goldman Sachs asset manager and hedge fund clients had exposure to cryptocurrencies. Around 60% expected to increase their crypto holdings over the next one to two years and 14% showed interest in DeFi tokens.
The bank's aggressive move towards Web3 could be a result of increased demand from its clients looking for exposure to the booming Web3 market.
Get your daily recap of
Bitcoin

,

DeFi

,

NFT

and

Web3

news from CryptoSlate
Get an
Edge

on the Crypto Market 👇

Become a member of CryptoSlate Edge and access our exclusive Discord community, more exclusive content and analysis.

On-chain analysis

Price snapshots

More context

Join now for $19/month Explore all benefits