LongHash Ventures Partners With Terra To Provide $500K Funding to web3 Projects
The growth of the web3 space has been unprecedented and unstoppable. Be it cryptocurrencies to the Metaverse and NFTs, and even Decentralized Finance (DeFi), the space is ever-growing, and those who know how to tap it right can advance the growth significantly.
LongHash Ventures aims to do precisely that, and for the same, it has taken its next major step.
Terra joins LongHash Ventures
In a press release today, LongHash Ventures announced its partnership with Terra ecosystem's parent company Terraform Labs.
Through this partnership, the four-year-old investment fund will be launching the Terra arm of its LongHash Accelerator, which has partnered with blockchains including Polkadot, Filecoin, and Algorand in the past.
As per the Accelerator program, the DeFi protocols that show potential are invested in and accelerated through LongHash's network of web3 leaders. In the past, through the accelerator program, LongHash Ventures has accelerated protocols such as Mintable, Acala, Balancer, Zapper, and many more.
With Terra joining the Accelerator program, ten projects will be joining as well who will receive up to $500k in funding and guidance in 6 key areas of development, including – product strategy & design, tokenomics, governance, and tech mentorship, community building, and fundraising.
Commenting on this partnership, Co-Founder and CEO of Terraform Labs, Do Kwon, stated,
"The LongHashX Accelerator has a consummate track-record as one of the most successful programs for accelerating Web3 startups. The new Terra cohort unlocks a streamlined pathway for builders to pursue bold ideas replete with first-class resources, workshops, and guidance – further accelerating a wave of innovation in the Terra ecosystem."
Throughout the program, the protocol developers will have the opportunity to communicate and receive support from industry leaders. And towards the end of the program, on the 'Demo Day', these developers will have the opportunity to pitch their Dapp to the investors.
LUNA on the charts
Terra's capabilities as a DeFi blockchain are well known. With over 26 protocols on the chain, Terra has already amassed $30.17 billion in TVL (total value locked) to become the second biggest DeFi chain in the world behind Ethereum.
But Terra's native token LUNA is performing just as exceptionally on the investment front. Just yesterday, the altcoin marked a new all-time high of $119.5 before taking a break today to cool down from the overheated market.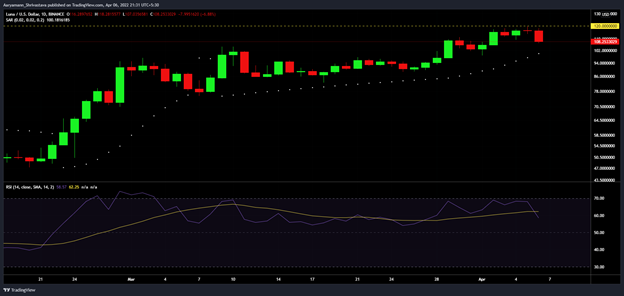 Given the chain's recent debacle with the falling Anchor reserves, which were boosted by Luna Foundation Guard (LFG) for $450 million, and the plans for building a $10 billion Bitcoin reserve for its stablecoin TerraUSD, Terra is serious about its future plans.
And this partnership would undoubtedly prove to be a huge support for Terra and LUNA to breach its next resistance of $120 and establish a new all-time high.