Metaverse Record: Biggest Property Sale In Virtual Land Hits $5 Million
Yes, people are opening up their wallets and paying millions for virtual real estate in the metaverse.
Curzio Research, a financial publishing company, announced that they have recently purchased a sizeable virtual land in TCG World, a not-so-popular metaverse.
The previous record-holder, who paid $4.3 million for a plot in the Sandbox, was blown out of the water with this purchase.
Suggested Reading | Crypto Billionaire Says He May Shell Out $1 Billion On The 2024 U.S. Election
Buying Real Estate In The Metaverse
TCG World is a metaverse that is practically unheard of. It isn't the popular choice, but Curzio Research has invested in 19 commercial virtual plots of land in this metaverse or 12 City (128m x 128m) plots and 7 City (256m x 256m) plots.
Curzio Research proudly states that this purchase will be the largest virtual real estate acquisition. Being the record-holder, Curzio gets to be awarded security tokens that represent an ownership stake of the company, plus TCG also snags cool cash.
Curzio Research is led by Founder Frank Curzio, who says, "The metaverse is what the internet was supposed to be: a decentralized, permissionless place where individuals have the freedom to create and own their digital content."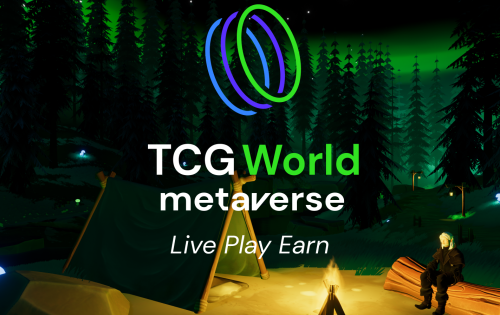 TCG World is a metaverse that is practically unknown (DappRadar).
Untapped Potential Of TCG World
When they were looking at their options, Curzio saw the massive potential of TCG World because it has all the winning elements that make up a metaverse.
They saw a goldmine in an unpopular choice of the metaverse.
TCG World had all the perfect "ingredients" — commerce, gamification, social, and entertainment. It also boasts a low-fee structure that promotes continuous rewards for users and developers. It was a win-win scenario in any way buyers look at it.
Curzio believes in the enormous untapped potential of the metaverse. What once started with Fortnite, Minecraft, Roblox, and the Sandbox has now evolved into a shared, interconnected, and experiential digital space that promotes massive investment opportunities.
Crypto total market cap at $1.26 trillion on the daily chart | Source: TradingView.com
Suggested Reading | USDTea: A New Stablecoin Backed By Iced Tea Cans Rises Like The Phoenix
Curzio Research decided to be a part of TCG World's Asian region. The company is bound to build its main headquarters alongside WallStreetsBets, where VIP members and investors can quickly convene. 
More so, members can attend educational seminars, live events, podcasts, and even create a community for investments and other initiatives.
Curzio Research is excited about this new virtual real estate acquisition and the opening of its headquarters just in time for the launch of the TCG World tentatively in September 2022. 
Featured image from The Korea Herald, chart from TradingView.com