Quant Explains How Stablecoin Ratio Can Give Bitcoin Buy Or Sell Signals
A quant has explained how the data of the stablecoin supply ratio (SSR) may be used to find Bitcoin buy or sell signals.
Stablecoin Supply Ratio May Be Able To Predict Bitcoin Buy And Sell Signals
As explained by an analyst in a CryptoQuant post, the stablecoin supply ratio may help us find BTC buy or sell signals.
The "stablecoin supply ratio" (or SSR in short) is an indicator that measures the ratio between the market cap of Bitcoin and that of all stablecoins.
In simpler terms, what this metric tells us is how the supply of the stablecoins compare with that of BTC. Investors usually use these fiat-tied coins when they want to escape volatile markets and hold on until the price reaches a viable reentry point.
So, in a way stablecoins represent potential dry powder for Bitcoin. When the value of the SSR is high, it means the supply of BTC is much higher than stablecoins right now. This means that there is lesser potential buying power available in the market and hence could be bearish for the price of the crypto.
On the other hand, low values of the ratio implies there is a decent amount of buying power available in the form of stablecoins at the moment. Naturally, this can be bullish for the value of BTC.
Related Reading | Bitcoin Bullish Signal: Exchange Reserve Loses Another 50k BTC Over Past Week
Now, here is a chart that shows the trend in the stablecoins supply ratio over the past 2 years:
The correlation between BTC price and the ratio | Source: CryptoQuant
In the above chart, the quant has marked the relevant regions of trend in the SSR RSI (a modified version of the indicator).
The analyst notes that whenever the value of this metric has been below 25, it has usually been a good buying point for Bitcoin.
Related Reading | Small Cap Altcoins Continue To March Ahead Of Bitcoin And Ether Gains
On the other hand, values above 70 seem to have indicated a sell signal instead. A couple months back, the metric showed a buy signal, and has since been making its way up.
If past trend is anything to go by, the price of the crypto may surge up now and the indicator will show a sell signal near the top.
BTC Price
At the time of writing, Bitcoin's price floats around $43k, up 5% in the last seven days. Over the past month, the crypto has gained 15% in value.
The below chart shows the trend in the price of the coin over the last five days.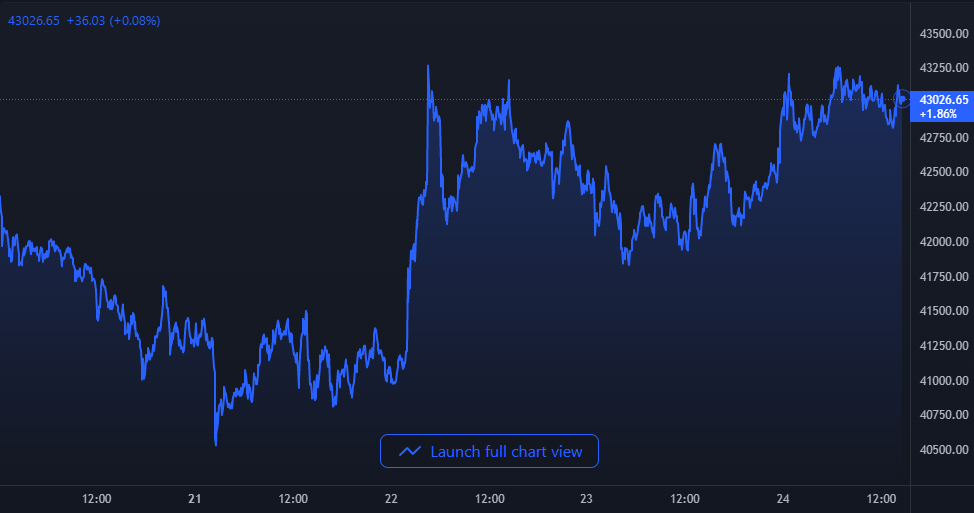 BTC's price seems to have surged up over the last couple of days | Source: BTCUSD on TradingView
Featured image from Unsplash.com, charts from TradingView.com, CryptoQuant.com