SharkRace is the first P2E game to offer upgradable NFTs from award-winning artists: save $180 with an NFT mint pass now
Move over Axies – sharks are in town. With its fun and creative NFT Super Packs, great design, and rarity upgrades, SharkRace explores the new frontiers of GameFi. You can already mint up to 3 NFT Super Packs with a special pass ahead of the general NFT sale.
The first metaverse game with unlimited rarity upgrades
What happens if you put together funky design by award-winning artists, customizable and upgradable NFTs, staking, fun gameplay, scholarships, and sharks? The answer is SharkRace – an exciting new NFT collection and a metaverse game on BSC that uses very creative incentive mechanics that make sure that every player gets hooked.
SharkRace isn't just a single game: two very different P2E games and the first collectible NFT Rarity Upgrade creative platform are ready to meet the world. The first game is Shark Races – a 3D adventure where fast, clever, and deadly meta sharks race to grab the bank. Prizes include both SHRK tokens and NFT assets which can be sold on the marketplace after. The beta-testing of the Shark Race has just been launched!
The second game is in 2D and focuses on building stronger card decks. It's called Shark Battle, and your chances to win depend on the skills of your meta shark. The team promises to launch beta-testing already in May, whereas the full version will roll out this June.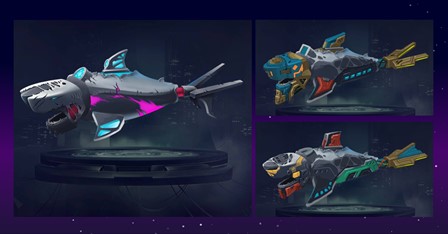 Note that meta sharks used in the P2E games are different from another category of NFT assets in SharkRace: premium collectible NFT sharks, the second part of the two-in-one innovative project. Whereas a meta shark can be upgraded in terms of skills, a collectible NFT can be upgraded in terms of rarity and traits, such as the items it holds in its fins, the shape of the mouth, and so on.
There are over 1,000 elements and traits, all of them drawn meticulously by hand. The team of SharkRace features artists that worked for Disney and other major brands, so the design is top-notch.
The Sharkrace Rarity Upgrade store is packed with wearables and other accessories, including the oh-so-cool GIF animated traits to equip your characters with, each of them an NFT in its own right. Players can combine lots of traits to produce truly rare and valuable NFT sharks. Rarity Upgrade is fun – you can try it right now in a free Rarity Upgrade demo with no shark required.
As an accessory is added to a shark, the original shark and item NFTs are burned and a new asset is generated, already with the added trait integrated into the image and with updated metadata. Even better: before paying for an accessory, you can 'try it on' to see if it's a good match for your shark character!
Rarity upgrades benefit players in two ways:
1) Market value. Players can sell their NFTs in the marketplace, and the better-looking ones will fetch higher prices.
2) Up to $100,000 up for grabs in the Rarity Contest. The contest will be one of the grandest events in the SharkRace metaverse, with players competing for the title of the rarest and coolest collectible NFT shark.
After the Rarity Contest, the collection will be 'frozen', with no further rarity upgrades possible. By contrast, users will still be able to upgrade the skills of their meta sharks to improve the performance in the P2E games.
A Sharknado of incentives in a single NFT pack
The best way to start with SharkRaces is to buy an NFT Super Pack. Forget INOs, (initial NFT offerings) – this is a different level entirely. Each SharkRace Super Pack offers a whole set of items and incentives:
– One premium collectible shark NFT to start your deck;
– Access to the upgrade platform;
– Three NFT meta sharks for the P2E games;
– Lifelong airdrop: every quarter, 2% of the platform's revenue will be distributed between 1,000 lucky holders;
– One Mystery Box, which can contain a valuable accessory;
– Between 200 and 2000 SHRK tokens as an instant cashback prize.
– Preferential staking and voting rights.
How to get into the NFT pre-sale and the SHARK IDO
The general sale of NFT Super Packs is scheduled for May 2022, at the undiscounted price of $300 per pack. However, early supporters can save up to $180 by purchasing a pre-sale mint pass on the official site.
Another way to save money is to join the INO whitelist: this affords a 10% discount (equal to $30) during the general NFT sale. Getting whitelisted involves completing several easy tasks in the SharkRace Discord.
Apart from the INO (the NFT sale), SharkRace will hold the IDO of its SHRK token on May 16-17, 2022 on several launchpads, including Seedify and Enjinstarter. The IDO price is set at $0.02 per token. SHRK runs on the BSC blockchain.
Backed by ShimaCapital and AU21
SharkRace's list of partners and investors features some of the biggest names in the metaverse industry, including venture funds ShimaCapital, OIG Capital, AU21, and Inazuma Capital, as well as Enjinstarter, Synapse, Seedify, and 20+ more backers.
The smart contracts have been successfully audited by Hacken (see report); staking functionality will be provided by Ferrum. In addition to 25 full-time in-house coders and marketing specialists, SharkRace works with 5 external gaming and design studios.
The SharkRace website already features a working rarity demo and even a playable game beta that you can test yourself.
Competition in GameFi is fierce: every day several INOs and Play2Earn IDOs compete for players' attention. However, SharkRace stands out in just about every way: the unique NFT upgrade system, rich incentives for the Super Pack buyers, high-resolution design, and so forth.
Add to this the fun shark theme and sophisticated game strategies – and you get one of the strongest contenders for the title of the hottest P2E project of Q2 2022. Learn more and get your NFT mint pass here: https://sharkrace.com